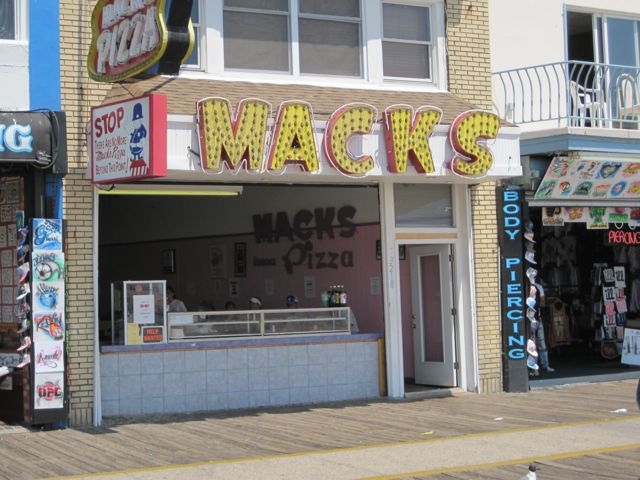 | Year | Rank | Avg | Price |
| --- | --- | --- | --- |
| 2017 | 5 | 3.5 / 5 | $2.75 |
| 2016 | 5 | 3.6 / 5 | $2.75 |
| 2015 | 4 | 3.1 / 5 | $2.50 |
| 2014 | 1 | 4.0 / 5 | $2.75 |
| 2013 | 10 | 2.7 / 5 | $2.50 |
| 2012 | 5 | 3.4 / 5 | $2.50 |
| 2011 | 1 | 4.3 / 5 | $2.25 |
| 2010 | 4 | 3.4 / 5 | $2.25 |
| 2009 | 3 | 3.6 / 5 | $2.25 |
| 2006 | 8 | 2.5 / 5 | $1.95 |

2014
Pizza Tour Winner

2011
Pizza Tour Winner
Biography and Review
Biography and Review:
More than 70 years ago, the Macaroni family started selling pizza out at a restaurant near the Trenton fairgrounds in New Jersey. It was going pretty well so they decided to open a shop on the Seaside Heights boardwalk, which was also successful. One day they decided to jump in their car to take a fun road trip down to south Jersey. They ended up in the little town of Wildwood, which had become a hot vacation spot. They loved the town and decided to open up a shop on Wildwood's boardwalk. Opening weekend Memorial Day 1953 didn't go so hot. As a matter of fact, it poured rain all weekend and they only sold 8 pies the entire weekend! But this wasn't an indication of the success they were soon to have in the coming decades--eventually they had 4 locations and have become one of Wildwood's and New Jersey's most famous pizzerias. What to expect from a Mack's pizza? Cheese on the bottom and sweet tangy sauce on top. Perhaps the most saucy and juicy pizza on the Wildwood boardwalk.
User Reviews of Mack's Pizza
Review by william Napoliello
January 24, 2017
We Always Go To Macks When We Want Pizza! We Love their Pizza!!
Review by Greg
December 17, 2016
Every year when we come to Wildwood we make Mack's our first dinner. Love the unique cheese, sauce and crust are great also.
Review by Sally Noel
December 16, 2016
Only pizza I get is Mack's, best pizza. Have memories of Mack's, was at corner of Glenwood and Boardwalk .
Review by Steve
October 11, 2016
Mack's has good flavor, but it's on the thin side and the consistency varies. The location towards the convention center is not good at all. Service isn't the best either and they can be unfriendly. $3.25 for a slice of Pepperoni is kind of criminal too. Definitely tastes good though.
Review by Sally Noel
September 30, 2016
Mack's always been my favorite . We always ate at Mack's corner of Glenwood Avenue back in 60's and love it today. They made wildwood . Thank you
What Do You Think?
What Do You Think?