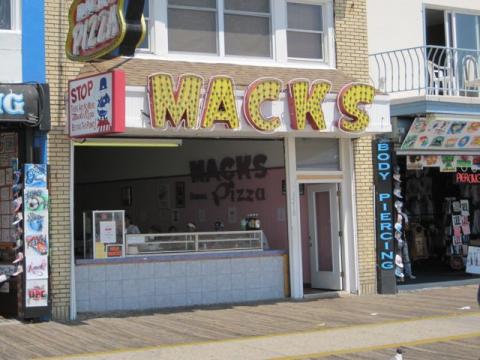 | Year | Rank | Avg | Price |
| --- | --- | --- | --- |
| 2016 | 5 | 3.6 / 5 | $2.75 |
| 2015 | 4 | 3.1 / 5 | $2.50 |
| 2014 | 1 | 4.0 / 5 | $2.75 |
| 2013 | 10 | 2.7 / 5 | $2.50 |
| 2012 | 5 | 3.4 / 5 | $2.50 |
| 2011 | 1 | 4.3 / 5 | $2.25 |
| 2010 | 4 | 3.4 / 5 | $2.25 |
| 2009 | 3 | 3.6 / 5 | $2.25 |
| 2006 | 8 | 2.5 / 5 | $1.95 |
| 2005 | 7 | 3.0 / 5 | $1.85 |

2014
Pizza Tour Winner

2011
Pizza Tour Winner
User Reviews of Mack's Pizza
Review by Sally Noel
September 30, 2016
Mack's always been my favorite . We always ate at Mack's corner of Glenwood Avenue back in 60's and love it today. They made wildwood . Thank you
Review by Joe Brown
September 23, 2016
Tried Jumbos. Was my favorite. Tried Sam's, new favorite. Then tried Macks. New, new favorite. Best of the best. Witnessing sauce application is reason enough to stop by. Best pizza on bdwalk is a bonus!!!
Review by Jane Bradley
September 22, 2016
Was a Sam's fan for years but after reading many reviews for Mack's decided to give it a try. I'm a convert. Mack's is the best! Thin crust, great sauce, just the right amount of cheese. Love it!
Review by Ronn Roden
September 21, 2016
best slice of pizza on the board. i live 145 miles away and would love to drive down and get one!!
Review by Michele swan
September 21, 2016
Macks is and will always be my family's favorite pizza in Wildwood. Been eating there for years. Thin crust delicious sause and cheese. The staff us so great too.