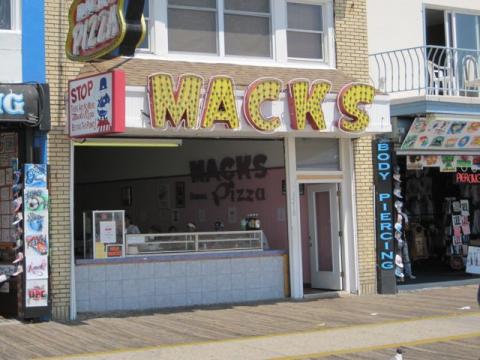 | Year | Rank | Avg | Price |
| --- | --- | --- | --- |
| 2016 | 5 | 3.6 / 5 | $2.75 |
| 2015 | 4 | 3.1 / 5 | $2.50 |
| 2014 | 1 | 4.0 / 5 | $2.75 |
| 2013 | 10 | 2.7 / 5 | $2.50 |
| 2012 | 5 | 3.4 / 5 | $2.50 |
| 2011 | 1 | 4.3 / 5 | $2.25 |
| 2010 | 4 | 3.4 / 5 | $2.25 |
| 2009 | 3 | 3.6 / 5 | $2.25 |
| 2006 | 8 | 2.5 / 5 | $1.95 |
| 2005 | 7 | 3.0 / 5 | $1.85 |

2014
Pizza Tour Winner

2011
Pizza Tour Winner
User Reviews of Mack's Pizza
Review by Paul DiCarro
August 12, 2015
My entire family and I went to Wildwood in July. (22 people total) we lost count on how many pieces of Mack's pizza we ate as a group. Lost count around 175. Mack's is hands down the best pizza on the boardwalk.
Review by F&T Szymkowski
September 3, 2014
Our absolute favorite shore pizza. Love the chedder cheese that makes it nice and greasy too. There is NOTHING like Macks. Tried 'em all and Macks is the winner in our books, and had been for 4 decades.
Review by Dee
August 15, 2014
tried Macks pizza several times over the past years because they always say their the best pizza on the boardwalk, but I never find that to be true! I've tried several pizza places and no one can beat Sams pizza! Macks pizza just is not a good taste pizza, never was.
Review by Sam
March 19, 2014
Not at all what it used to be. Way too greasy, sauce definitely doesn't compliment the cheddar cheese well (who uses cheddar cheese for pizza anyway?) and the crust is never cooked right YUCK
Review by Ruthann Hilland
March 10, 2014
The best pizza anywhere! People come from far away to get Mack's Pizza for a good reason. As soon as my feet touch the first board on the boardwalk, I am headed straight to Mack's. I do not understand the Mack's/Sam's controversy because there is no comparison as far as I am concerned. I had to try Sam's once so that I could say that I had tried it and it is not bad pizza but it is also not Mack's. I have never tasted pizza this good anywhere. It is always better when you eat it there as you get the whole boardwalk experience (and get to people watch too- always fun). The cheese and the sauce have that extra Mack's flavor which gives the pizza a taste all its own. I am a fan of thin crust anyway (probably due to growing up eating Mack's Pizza) and I love watching how they put the cheese on first, then the sauce for those great flavor swirls. I would give it 6 stars if I could. It is that good.