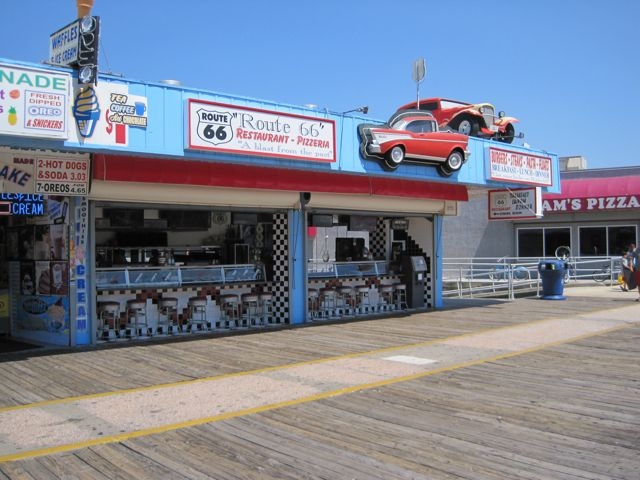 | Year | Rank | Avg | Price |
| --- | --- | --- | --- |
| 2017 | 7 | 3.4 / 5 | $2.50 |
| 2016 | 7 | 3.3 / 5 | $2.50 |
| 2015 | 10 | 2.2 / 5 | $2.50 |
| 2014 | 6 | 3.5 / 5 | $2.50 |
| 2013 | 13 | 2.3 / 5 | $2.50 |
| 2012 | 9 | 2.7 / 5 | $2.50 |
| 2011 | 15 | 1.8 / 5 | $2.50 |
| 2010 | 17 | 1.4 / 5 | $2.50 |
| 2009 | 20 | 0.9 / 5 | $2.50 |
| 2006 | 11 | 2.3 / 5 | $2.00 |
User Reviews of Route 66
Review by Robert Frankel
September 3, 2013
......Considering that I'm a "regular" at Route 66? One thing I *will* state? ......In FIVE YEARS of dining there? There has *never* been a: "Greek Pizza" on the menu. Not only that? But? Route 66 doesn't use: "Processed Cheese." Their primary food supplier is one of my customers. Like "The Shadow?" "I know." I'm amazed how utterly "Catty" and ignorant other restaurant owners can get just to promote their *own* establishment, but SLAM another. That's the beauty of the: "Pizza Tour;" It's UNBIASED. Keep cooking your subpar food, "Greek Pizza" reviewer......P.S.-If you want to degrade an establishment? At least send one of your "Minions" to get a menu......Make it "credible" at the very least.....Until you do? I'll *CONTINUE* to patronize Route 66......And *Still* laugh at your fictitious: "Reviews." How many other e-mails and illegitimate methods did you use to SLAM *other* LEGITIMATE establishments? Accept the fact that your food sucks, and you have to hire non-English speaking, swarthy degenerates to run after would-be Boardwalk clientele to sell your: "$1.00-Slice" CRAP pizza. If you notice? None of the REAL dining establishments have to resort to such debauchery-Maybe *That's* why Route 66 ALWAYS has clientele at the counter.....With no such "barkers" in existence.
Review by Robert
August 22, 2012
.....I'm *ADDICTED* to the pizza here-In a word? It's "clean." It's not a boardwalk "grease bomb" that late in your stomach....It's actually reminiscent of a "designer pie" from A.C... My personal fvorite? The buffalo chicken pizza....The chicken is finely chopped and the level of "heat" is perfect. I'll admit that I probably eat here more than I should- But? For good reason.... And? Enough to know that some of the negative reviews? Are from people who can't even pick Ytou're so
Review by anonymous
August 2, 2012
ugh i would rate this food a zero if I could.I ordered one slice of greek pizza and my mother ordered a cheeseburger. Plain and simple. We waited 45 minutes and it finally came out. My pizza was cold and could have litterally been used as a hocky puck.Her burger had an unmelted slice of processed cheese and the burger was warm on the outside but was cold on the inside. I will never eat here again if you paid me.
Review by kayleigh
August 7, 2011
Best pizza and bufflo chicken cheese steak EVER!!!!
Review by Beth
August 6, 2011
Rt 66 pizza is the BEST I have ever tasted and absolutely the BEST on the boardwalk.
What Do You Think?
What Do You Think?