Pizza Tour 2009 Results
Every year, our group of four (or five!) spends one entire evening tasting and rating a slice of pizza from every "legitimate" pizza place on the Wildwood, NJ boardwalk. Here, we reveal our findings… For more info, read the 'About the Pizza Tour' page!
Tour Note
The group was especially eager to set out on the Wildwood Pizza Tour in August 2009 after missing 2008 due to disagreeing schedules. Several new pizza venues had since opened up while some others had closed. To mix it up from previous years, we decided to reverse our starting point from North Wildwood to Wildwood Crest for this year. This way, Alex's Pizzeria in the Crest would now be our first stop instead of last.
2009 Tour Details
Starting Point: Wildwood Crest, Alex's Pizzeria
Pizza Places Reviewed: 23
Average Price Per Slice: $2.19
Most Expensive Slice: Curley's Pizza / Duva's Italian Grill -- $3.27
Least Expensive Slice: Santino's Pizza / Mama Leone's -- $1.00
Overall Average of All Slices: 2.34 out 5
Best Slice: Santino's Pizza – 3.88 out of 5
Time Spent: 4.0 hours
Reviewers: Chris, Brian, Mike, Tim
The Best Slice 2009
1.) Santino's Pizza - Avg: 3.8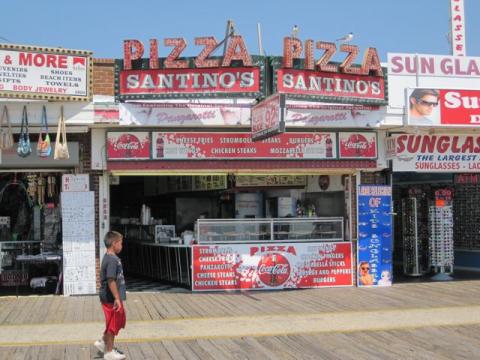 For literally pocket change (92 cents + 8 cents tax), this slice was excellent. The crust was thin but not too thin. Good cheese / sauce ratio and hot when we got it. The staff was friendly, attentive, and quick to serve us. We've also seen this place open super late–but no reason to lower your standards–Santino's doesn't feel like a last resort for any late-night hunger attacks. It's a top preference!
Overall Rating: 3.88 out of 5
Chris: 4.0  Brian: 4.0  Mike: 4.0   Tim: 3.5  
Slice Price: $1.00
2: Little Nicky's - 3.63 - With wild chasing lights surrounding it's sign, Little Nicky's felt like a finish line as we approached the end of the boardwalk in North Wildwood. After eating at 22 pizza places, it's surprising Little Nicky's tasted as good as it did. I personally have had Little Nicky's every summer for over 20 years, and I know it's had it's ups and downs. For 2009, it was definitely an up!
3: Mack's Pizza - 3.63 - As a Wildwood staple, Mack's Pizza is always in the running as one of the best. Great sauce and cheese earn Mack's an excellent reputation and insanely loyal fanbase.
4: Jersey Jax - 3.5
5: Alex's Pizzeria - 3.25
Best Bang for Your Buck
PPR (Points Per Price Ratio) = Overall Rating / Price
1.) Santino's Pizza - PPR: 3.8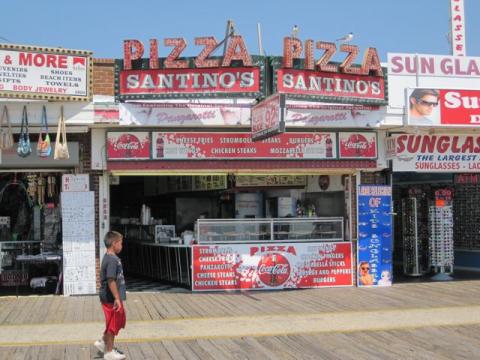 Not only did they win the best slice, but Santino's also won the Best Bang for Your Buck category. The value is great–A buck for the best slice on the boardwalk? An easy win for Santino's Pizza.
Overall Rating: 3.8 out of 5
Chris: 4.0  Brian: 4.0  Mike: 4.0   Tim: 3.5 
Slice Price: $1.00
Value (PPR) Rating: 3.88  
2: Little Nicky's - PPR: 1.91
3: Alex's Pizzeria - PPR: 1.71
4: Mack's Pizza - PPR: 1.61
5: Jersey Jax - PPR: 1.56
Results Spreadsheet (click for larger image)