| Year | Rank | Avg | Price |
| --- | --- | --- | --- |
| 2017 | 8 | 3.4 / 5 | $3.50 |
| 2016 | 3 | 4.1 / 5 | $3.50 |
| 2015 | 3 | 3.3 / 5 | $3.50 |
| 2014 | 4 | 3.6 / 5 | $3.25 |
| 2013 | 6 | 3.8 / 5 | $3.25 |
| 2012 | 18 | 2.1 / 5 | $3.25 |
| 2011 | 12 | 2.4 / 5 | $3.25 |
Biography and Review
Biography and Review:
Joe's Pizzeria has a reputation for being largest slice on the Wildwood boardwalk — and since they opened in 2011, they haven't disappointed on that metric. But what about the taste of their slice? Expect a slice that's well-seasoned with plenty of flavorful sauce. You probably won't leave hungry. We mean that in a good way.
User Reviews of Joe's Pizzeria
Review by Eric Carrion
September 3, 2017
Joe pizza is a rip off. I ask for a soda and was sold a cup full off ice and napkins . The old waitress with blonde hair job is to rip you off and steal your hard earn money. I was overcharged. They can get away with anything. Keep away. Rip off and thieves not family friendly at all. Rip and thieves and maybe a little racist.
Review by Cas Di
August 8, 2017
Just came back from Wildwood, had plenty of food on the boardwalk. The first night we decided to have pizza. We came across Joe's Pizza. We were 7, we all shared the jumbo pie...aka pizza. Half the pizza was pepperoni and the other half with spinach tomatoes cheese. We really didn't care that the pizza was overlapping the table. The taste was amazing. Our waiter Joe ( not sure that was his name ), funny cool guy. Next year when I'm back, Joe's pizza is the place I'll be . By the way, I've tried a slice of Sams pizza....never again. Just say'n. Great job guys, see you next year.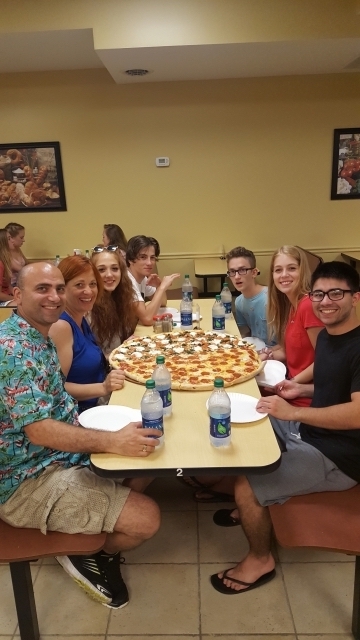 Review by Amy
December 17, 2016
I am a Sam's fan all the way till one day my husband convinced me to try Joe's. I was pleasantly surprised. It is very good pizza. Still a fan of Sam's but now have a second fav.
Review by Carmela Rininsland
December 15, 2016
Joe's Pizza is the best on the boardwalk! Friendly and fast service. The pizza is delish! Highly recommend!
Review by Joan schmidt
June 30, 2013
So sad... We went to try it and upon ordering the large pizza there was a long black hair baked into our pizza. When we told the owner. He simply said that he couldn't control the hair situation and took a wad of money out of his pocket and he put down a $10 bill on our table towards our check instead of taking the pizza off our order. He then asked if we wanted the rest of the pizza when we said no he said he'll just box it up for his employees. Really??? He said everyone has hair and it can't be controlled. Never again.
What Do You Think?
What Do You Think?