About Us
Every year, our group of five spends one entire evening tasting, reviewing and rating a slice of pizza from every "legitimate" pizzeria on the Wildwood, NJ boardwalk, in search of the best slice. Here we reveal our findings...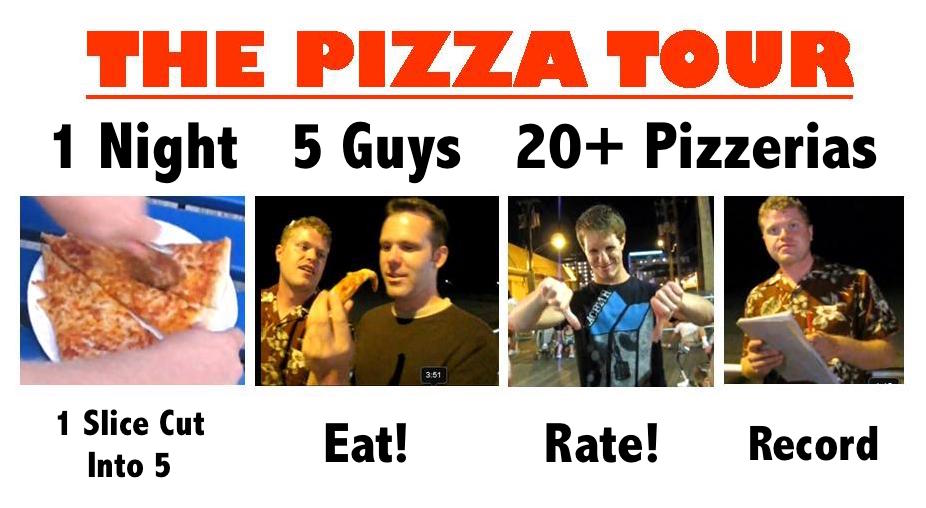 Origins
On the Wildwood beach in 2005, our group stumbled into a conversation about the many pizzerias spanning the 2-mile boardwalk. Sure, we had a few pizzerias that we often visited, but we quickly recognized there were many we had never tried. What if we were missing out on some really great pizza? Even worse, what if we were missing out on the best pizza? We didn't like the thought of that at all. After some more discussion, we realized there was only one way to solve this problem...
That night, one of the most ambitious experiments in Wildwood's history was conducted; One full night of tasting and rating every single "legitimate" pizza place on the 2-mile Wildwood, NJ boardwalk.
We had no clue how many pizzerias there were or if we'd even be able to eat that much pizza in one night. To save our stomachs (and wallets), our group of 5 purchased just one slice at each pizzeria we encountered. Each slice was cut into 5 using a pizza slicer. Each reviewer conducted a thorough taste test of the slice and recorded their rating on a 0 to 5 point scale.
At the end of the night, incrdibly full after sampling 19 different pizza slices, the group averaged the results and a victor was proclaimed!
The group had such a good time that the tour became a yearly tradition.
In 2009, a friend of the tour suggested that we publish our results on the internet. As soon as we did, to our humble and grateful astonishment, many folks took interest in our experiement and findings. As a result, we established Facebook and Twitter pages, where we regularly post about Wildwood all-year long.
Present Day
Since that fateful night in 2005, the group has continued to hold the "Wildwood Pizza Tour" on an annual basis. Over the years, the tour has evolved, and we have collected more data about each pizzera and their slices. In addition to recording the price, each slice is now measured (with a tape measure, we kid you not) so that we can determine a couple additional metrics:
Largest Slice - simply put, who has the largest slices on the boarddwalk!
Best Value Slice - The Pizza to Points to Price Ratio, abbreviated as PPPR (P3R) - determines who has the "best bang for you buck" by evaluating the price, size (in square inches) and overall rating of the slice.
The Tour continues to grow in size and notiriety, though at its core, remains a simple, fun night among friends every year. 
Other Notable Events
In 2014, the group offered several "Best of the Wildwood Pizza Tour" walking tours. This free, guided tour took attendees to some of Wildwood's best pizzerias while discussing the fascinating history of pizza, the stories behind Wildwood's pizzerias and other fun facts.
In 2016, in honor of its 10th Tour, the Wildwood Pizza Tour held a "Beach Birthday Bash" on the Leaming Avenue Beach. The event, which was open for all to attend, featured pizza from 3 Wildwood pizzerias, music, games and a viewing of the Friday Night Fireworks.
The Official Rules of the Tour
We order classic cheese pizza only -- no toppings or spices -- the slice is consumed as it is received from the pizzeria.
Each year, we reverse the starting point of the tour (North Wildwood or Wildwood Crest) in an effort to be fair.
In the event of a pizza parlor that has multiple locations, only the first location we come across is rated only the ORIGINAL LOCATION is rated.
At this point, we do not deviate from the main walk of the boardwalk (We do not go into the piers or off of the boardwalk)...We stay on the main stretch.
Several attempts at determining what places are "legitimate pizzerias" have proved fruitless; From having the word "Pizza" in the name to requiring multiple pizzas on display in the front counter, no consensus has ever been agreed upon. We decide "qualifying" pizza parlors on a case by case basis at this point in time.
"Tie" rating? -- the cheaper slice wins!
Please be aware, these ratings are strictly for fun and a matter of opinion! :)