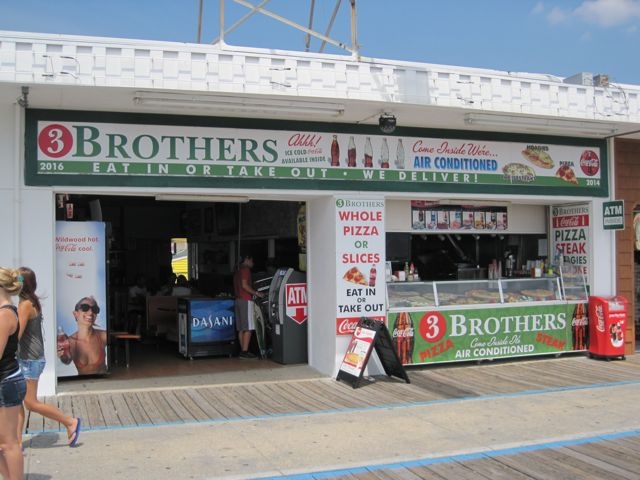 | Year | Rank | Avg | Price |
| --- | --- | --- | --- |
| 2017 | 9 | 3.2 / 5 | $2.73 |
| 2016 | 6 | 3.5 / 5 | $2.50 |
| 2015 | 8 | 3.0 / 5 | $2.50 |
| 2014 | 11 | 2.6 / 5 | $2.50 |
| 2013 | 14 | 2.0 / 5 | $2.50 |
| 2012 | 14 | 2.3 / 5 | $2.50 |
| 2011 | 4 | 3.6 / 5 | $2.50 |
| 2010 | 2 | 3.9 / 5 | $2.50 |
| 2009 | 10 | 3.0 / 5 | $2.50 |
| 2006 | 17 | 1.0 / 5 | $1.89 |
Biography and Review
Biography and Review:
A North Wildwood mainstay since 1974, 3 Brothers offers a reliable variety of pizza slices. They are often open for late night hours. Their dining room accomodates a host of dine-in patrons and delivery is available. Gluten-free pizza is also on the menu.
User Reviews of 3 Brothers
Review by Christine
December 16, 2016
Great pizza at a reasonable price!!! Always a regular stop on our trips to wildwood!
Review by Alexis Johnson
December 15, 2016
Love the pizza here! I stayed at the horizon inn right off the boardwalk to 3 brothers and we are here a lot! I also got their wings and fries and they were the best!
Review by Kim G
December 15, 2016
We have been going the 3 brothers pizza for years. Their pizza is one of the best tasting pizza I've ever had. (This is coming from a gal who is spoiled by many pizzerias here in New Haven, CT.) The pie at 3 Brothers pizza is not too oily, the crust is just right, as well as the sauce and toppings!
Review by Monica Hannis
July 27, 2015
Everytime I eat 3brothers pizza I fall in love with pizza even more! Best pizza on the boardwalk..Way to go 3 brothers!
Review by Annette
August 27, 2014
Simply put - tastes fresh and real. Probably the most underrated place on the boards. Been there many times and have never been disappointed. Great value and, yeah, sometimes crowded but the staff is always friendly. Will always be return customers!
What Do You Think?
What Do You Think?