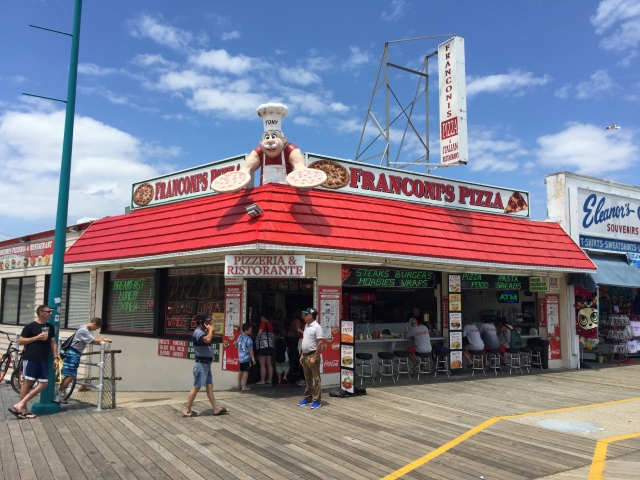 | Year | Rank | Avg | Price |
| --- | --- | --- | --- |
| 2017 | 1 | 4.3 / 5 | $2.00 |
| 2016 | 2 | 4.1 / 5 | $2.00 |
| 2015 | 1 | 4.3 / 5 | $2.00 |
| 2014 | 3 | 3.7 / 5 | $2.00 |
| 2013 | 1 | 4.6 / 5 | $2.00 |
| 2012 | 2 | 3.9 / 5 | $2.00 |
| 2011 | 2 | 3.8 / 5 | $2.25 |
| 2010 | 1 | 4.0 / 5 | $2.00 |
| 2009 | 13 | 2.5 / 5 | $2.13 |
| 2006 | 10 | 2.3 / 5 | $1.89 |

2017
Pizza Tour Winner

2017
Best Value Slice

2015
Pizza Tour Winner

2015
Best Value Slice

2014
Best Value Slice

2013
Pizza Tour Winner

2013
Best Value Slice

2010
Pizza Tour Winner

2010
Best Value Slice
Biography and Review
Biography and Review:
Since opening their doors at Oak and the Boardwalk in 2006, Franconi's Pizza has been serving pizza, sandwiches, salads and more to hungry boardwalk goers. Their prime location across from Mariner's Landing and the famous Wildwood ferris wheel make them a convenient choice for a slice or two on the boardwalk. In addition to their dining room and counter service, Franconi's offers delivery to the Wildwood area. Whether you grab a stool at the front counter or a booth in the dining room, you will sink you teeth into wonderfully flavorful, well-balanced and satisfying slice of pizza -- On the Wildwood Pizza Tour, Franconi's is consistently competing for the Best Slice and Best Value Slice in Wildwood — they have won each award multiple times. Their slices are among the largest on the boardwalk.
User Reviews of Franconi's Pizza
Review by Tony Rollo, JR.
February 1, 2018
Been going there since 2015....good pizza...whether it was a whole pie, or just a couple of slices....and friendly service...will see you in 2018....
Review by Tina
March 26, 2016
The woman that works the front is know as the nastiest lady on the boardwalk by all the kids. She is miserable and we and many others won't go there because of her bad attitude.
Review by Brian
August 19, 2015
Wouldnt honor their 15 percent off coupon because I charged my credit card in advance. Was walk up customer. Could have offered a soda or a pizza topping to make us satified!
Review by John
June 13, 2013
Absolutely DELICIOUS. I'm a MACKS Customer, and wanted to try something different, so we tried Franconis and Loved it! I'd definitely give it a tie for 1st place on the Boardwalk.
Review by Kathleen
February 4, 2013
3 Stars. Food is very good, if you can ignore all of the ants crawling all over the dining room tables (especially those next to the windows)!
What Do You Think?
What Do You Think?