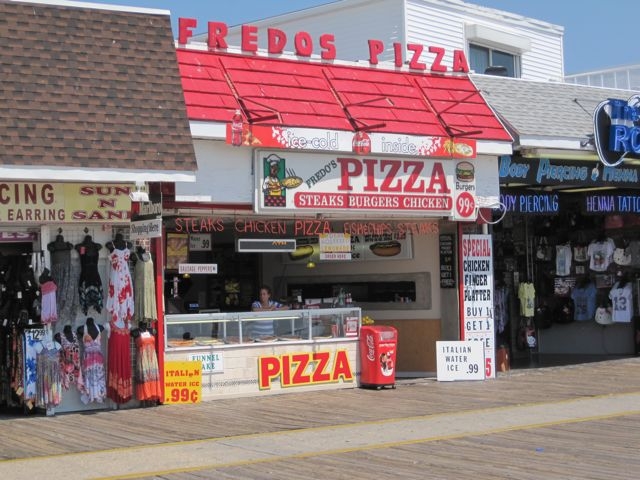 | Year | Rank | Avg | Price |
| --- | --- | --- | --- |
| 2017 | 19 | 1.7 / 5 | $1.00 |
| 2016 | 11 | 2.3 / 5 | $1.00 |
| 2015 | 21 | 0.7 / 5 | $1.00 |
| 2013 | 22 | 0.8 / 5 | $2.00 |
| 2012 | 20 | 1.6 / 5 | $1.99 |
| 2011 | 24 | 0.4 / 5 | $2.00 |
| 2010 | 20 | 0.7 / 5 | $2.00 |
| 2009 | 22 | 0.4 / 5 | $2.00 |
| 2006 | 9 | 2.3 / 5 | $0.99 |
| 2005 | 13 | 1.8 / 5 | $1.00 |

2016
Best Value Slice
User Reviews of Fredo's Pizza
Review by Steve
October 11, 2016
Surprisingly okay - especially for a buck. Sauce has a pre-canned tangyness to it, but the cheese and crust are decent. For a buck, it's honestly decent.
Review by Jill Madden
July 19, 2016
The young guy with the tie-dye shirt was very hard working and very friendly.
Review by Mike holt
July 16, 2016
The pizza maker name Steve they call him gordo. His pizza was well cooked & very tasty,made it as if he was making it for himself. His service was great,awsome personality & will definitely eat there again when gordo is making the pizza"s. Ty. Steve for a tasty pizza he seems to be there all the time so ask Steve to make you a pizza ty. Mike H.
Review by andrea hooper
August 1, 2015
Best pizza in wildwood and friendly staff
Review by tom
June 22, 2015
This pizza at a place nicknamed "rollies" is so digusting!!! The lady at the front pulled an old pie out of the display window burnt it to the point where it was black all underneath and then served us it knowing she wouldn't have even touched it. HORRIBLE PIZZA, HORRIBLE EXPERIENCE.
What Do You Think?
What Do You Think?