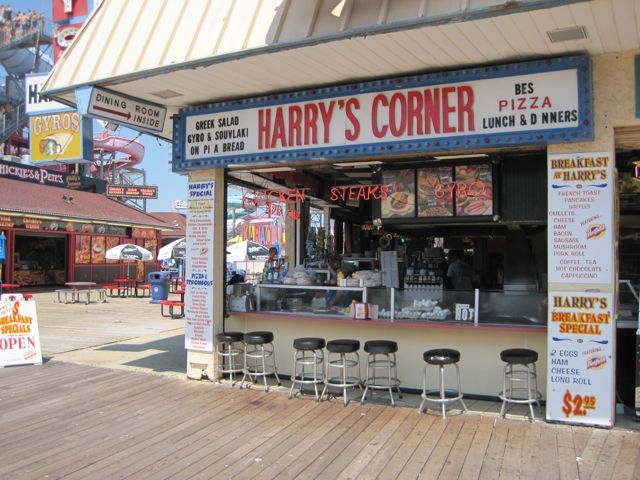 | Year | Rank | Avg | Price |
| --- | --- | --- | --- |
| 2017 | 17 | 2.0 / 5 | $2.75 |
| 2016 | 16 | 1.9 / 5 | $2.75 |
| 2015 | 18 | 1.5 / 5 | $2.75 |
| 2014 | 19 | 1.1 / 5 | $2.50 |
| 2013 | 15 | 1.9 / 5 | $2.75 |
| 2012 | 10 | 2.5 / 5 | $2.50 |
| 2011 | 17 | 1.6 / 5 | $2.50 |
| 2010 | 14 | 2.1 / 5 | $2.00 |
| 2009 | 21 | 0.5 / 5 | $2.50 |
| 2006 | 18 | 0.8 / 5 | $2.75 |
User Reviews of Harry's Corner
Review by Dougie Gunner
September 24, 2013
They have the best cheese steaks on the boardwalk. I think it's the pepper/spices they add. I used to love their Sicilian pizza, but I've either lost my taste for it or they don't make it like they used to. My mom loves their veal parmesan. All in all it's one of my favorite places to eat.
Review by Alvin Redding
August 18, 2013
great service young american people waiting on you and the food and ice cream is delicious i came to harrys about 3 days ago and loved every second of the experience kids are great and it has a real good vibe
Review by Beefy Ballpark Spins
July 31, 2011
This guy sucks. The pizza is terrible. Booooooooooooooooooooooooooo!
Review by borderline_spectrum
March 5, 2011
My father in law and I took my 2 and 5 year olds mini golfing at the indoor pirate golf next door. Afterward we decided to grab a bite at the nearest place which happened to be Harrys. Both my father in law (South Philly Italian) and I were impressed with the taste of the pizza. The service was also excellent. Very nice and courteous.
What Do You Think?
What Do You Think?