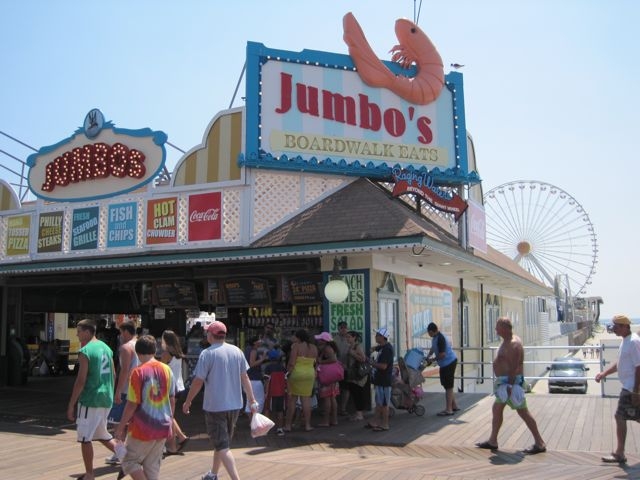 | Year | Rank | Avg | Price |
| --- | --- | --- | --- |
| 2017 | 6 | 3.5 / 5 | $3.54 |
| 2016 | 14 | 2.1 / 5 | $3.54 |
| 2015 | 5 | 3.1 / 5 | $3.54 |
| 2014 | 15 | 1.5 / 5 | $3.54 |
| 2013 | 5 | 3.5 / 5 | $3.54 |
| 2012 | 7 | 2.9 / 5 | $3.54 |
| 2011 | 19 | 1.5 / 5 | $3.54 |
| 2010 | 11 | 2.5 / 5 | $3.27 |
| 2009 | 16 | 2.3 / 5 | $3.27 |
Biography and Review
Biography and Review:
Located on Mariner's Landing Pier since 1999, this Morey's owned and operated pizzeria offers one of the largest slices on the boardwalk. Indeed, the name "Jumbo's" is no accident.
A big slice is great, but what does it taste like? This slice's ingredients are individually tasty and work together really nicely. You'll notice chunks of mild tomato, a juicy cheese and a pretty tasty sometimes buttery crust. Often, you'll also notice a charred flavor that the slice picks up from the oven during the cooking process.
User Reviews of Jumbo's
Review by Dawn Hazelton
May 30, 2016
My pizza was burnt I was not happy totally gross I will never go to this jumbo pizza ever again