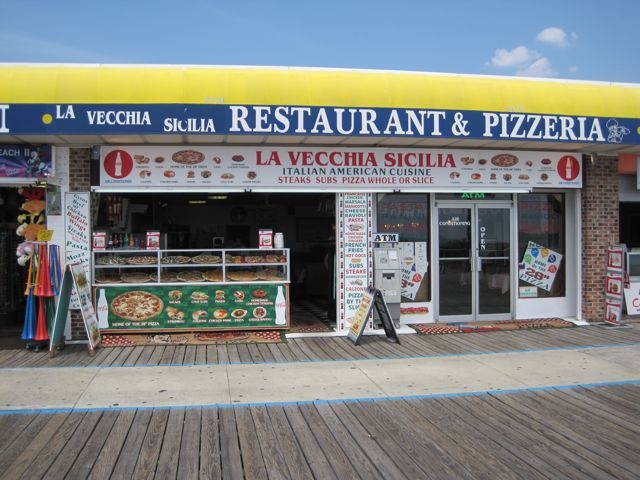 | Year | Rank | Avg | Price |
| --- | --- | --- | --- |
| 2017 | 20 | 1.7 / 5 | $1.95 |
| 2016 | 10 | 2.6 / 5 | $2.73 |
| 2015 | 20 | 0.8 / 5 | $2.79 |
| 2014 | 14 | 1.8 / 5 | $2.75 |
| 2013 | 19 | 1.7 / 5 | $2.25 |
| 2012 | 15 | 2.2 / 5 | $2.00 |
| 2011 | 25 | 0.3 / 5 | $2.00 |
| 2010 | 9 | 2.7 / 5 | $2.00 |
User Reviews of La Vecchia Sicilia
Review by michael
September 6, 2014
Worst place of my entire life. Went for breakfast there was one employee working. Didn't get our drinks for 30 minutes and their was fly's everywhere. The table in front of us broke and plates went Everywhere. She didn't even bother to clean it and there was 5 tables with dirty dishes. I received the wrong food and never got creamer or syrup for the pancakes I didn't order. Then when I tried to pay the cook who was laughing at the waitress said we didn't charge you for the drinks. My drinks was water.... Never again... I would rather eat at a homeless shelter.
Review by vito rizzuto
July 13, 2014
Pizza made by a Sicilian ..can't beat that.
Review by Joe Marino
August 30, 2013
To start off this pizza is the best on the boardwalk hands down. We've tried almost all others and none have come even close to La Vecchia Sicilia. The sauce is very well seasoned and the cheese has a very fresh taste. The owner is a stand up guy and obviously knows how to run a great pizzeria. Would recommend to anyone.
Review by julie
August 29, 2013
Five star. Best pizza for the best price! Yay!
Review by GLP
August 18, 2013
Longest wait (50 minutes) for the worst pizza we've ever had! Said they were busy -THEN HIRE MORE STAFF!!!!!
What Do You Think?
What Do You Think?