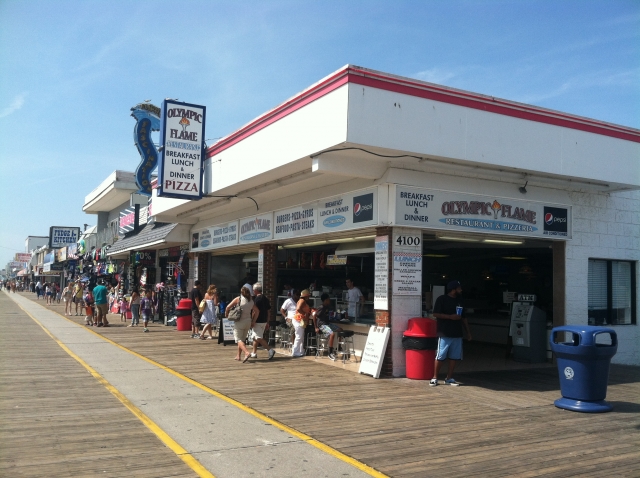 | Year | Rank | Avg | Price |
| --- | --- | --- | --- |
| 2017 | 2 | 4.1 / 5 | $2.50 |
| 2016 | 1 | 4.2 / 5 | $2.50 |
| 2015 | 2 | 3.9 / 5 | $2.50 |
| 2014 | 2 | 3.8 / 5 | $2.50 |
| 2013 | 2 | 4.0 / 5 | $2.25 |
| 2012 | 1 | 4.1 / 5 | $2.50 |
| 2011 | 14 | 2.0 / 5 | $2.50 |
| 2010 | 10 | 2.6 / 5 | $2.50 |
| 2009 | 18 | 1.3 / 5 | $2.50 |
| 2006 | 15 | 1.7 / 5 | $1.84 |

2016
Pizza Tour Winner

2012
Pizza Tour Winner
Biography and Review
Biography and Review:
Since 1983, Olympic Flame has been at the Boardwalk and Youngs Avenue, serving pizza, gyros & other Greek, Italian & American food all day long. Open for breakfast, lunch and dinner.
What to expect of their slice? Medium-thick crust that's light and crispy thanks to Olympic Flame's pan-baking process. Plentiful and flavorful cheese, lightly seasoned with a touch of garlic. Sauce is usually sweet and minimal.
User Reviews of Olympic Flame
Review by Steve
October 11, 2016
Had to try it. Surprisingly good with lots of flavor. More dough than your typical boardwalk pizza - if you're into that.
Review by Gi
September 4, 2016
Well these five guys got it wrong for best pizza 2016. It taste like ellos pizza. Cheese was cheap tasting, sauce was sweet, crust was doughy. It taste like a frozen shell. Back to franconies.
Review by Lady Mac
August 31, 2016
Not sure how this one best pizza on the boardwalk. This is not Jersey style pizza. it was average, at best. I was very disappointed looking for the best pizza on the boardwalk - this is not it. And the slices were somewhat small. But I will say I watched a guy make chicken for sandwiches and salads and he was meticulous - I saw a couple people pieces that were not fully and he fished them all out cooked them off to the side make sure they were completely done and then put them back into the pile of sliced chicken.
Review by Lisa
August 10, 2016
Best pizza. All their food is delicious and best prices on the boardwalk. Service is excellent even tho the place was packed. Breakfast is excellent too. Best on the boardwalk
Review by Victory
October 13, 2011
The best Buffalo chicken slices!!! My friend used to have one every day during the whole summer for a couple years!!! (do you remember him, guys??) Sounds unbelievable, but it's truth