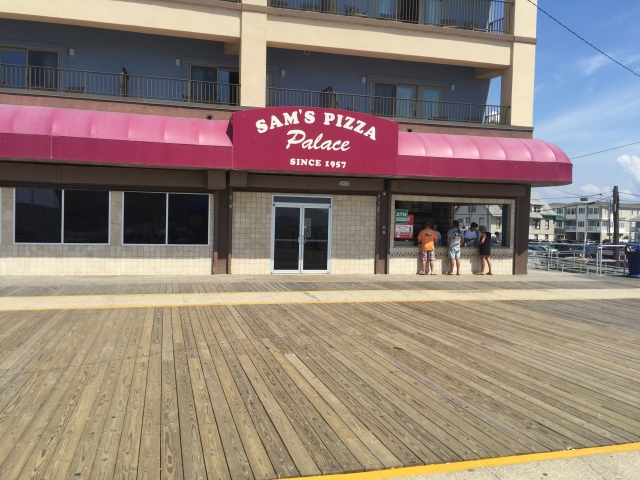 | Year | Rank | Avg | Price |
| --- | --- | --- | --- |
| 2017 | 16 | 2.0 / 5 | $2.25 |
| 2016 | 13 | 2.1 / 5 | $2.25 |
| 2015 | 7 | 3.0 / 5 | $2.10 |
| 2014 | 7 | 3.1 / 5 | $2.10 |
| 2013 | 17 | 1.8 / 5 | $2.00 |
| 2012 | 8 | 2.8 / 5 | $2.00 |
| 2011 | 6 | 3.3 / 5 | $1.95 |
| 2010 | 18 | 1.2 / 5 | $1.95 |
| 2009 | 17 | 1.5 / 5 | $1.90 |
| 2006 | 16 | 1.5 / 5 | $1.60 |
Biography and Review
Biography and Review:
Sam's Pizza Palace, family owned and operated since 1957, is one of Wildwood's most famous pizzerias and a favorite among locals and summer visitors. Located on the south side of 26th and the Boardwalk, Sam's serves up a simple menu of pizza (including plain, pepperoni and white broccoli) as well as birch beer with crushed ice. Sam and his wife immigrated to Trenton, NJ in 1951 where Sam opened a "Lunch Truck" serving sandwiches as well as homemade soups. After a visit to Wildwood, Sam decided to open a steak sandwich shop on the Wildwood boardwalk. Before long, Sam purchased a small pizza oven and started selling pizzas to hungry boardwalk walkers. Sam's was soon so popular that he moved into a larger restaurant (where it is still located today) and focused on pizza-making. The rest is history.
User Reviews of Sam's Pizza Palace
Review by Ed Wheat
August 8, 2017
Always the best pizza. From President's Day weekend until almost the end of October. The crowds tell the story. If they didn't have great pizza, it wouldn't be crowded with lines every year.
Review by Julie
December 15, 2016
Sam's is the best! It's where we've always eaten at down the shore. Have always loved the atmosphere, the waitresses, and of course the pizza. Oh and can't forget the birch beer!
Review by Mary Ann csahok
December 15, 2016
Best pizza ever been going to ww for 56 yrs and will move there one day one soon.
Review by Val Banach
December 15, 2016
Best Pizza on the Boardwalk !!!!
Review by Terry
December 15, 2016
After playing at gateway 26 we go to Sam's Pizza. They gave great service and excellent pizza. We also get curley's fries to eat with our pizza.
What Do You Think?
What Do You Think?