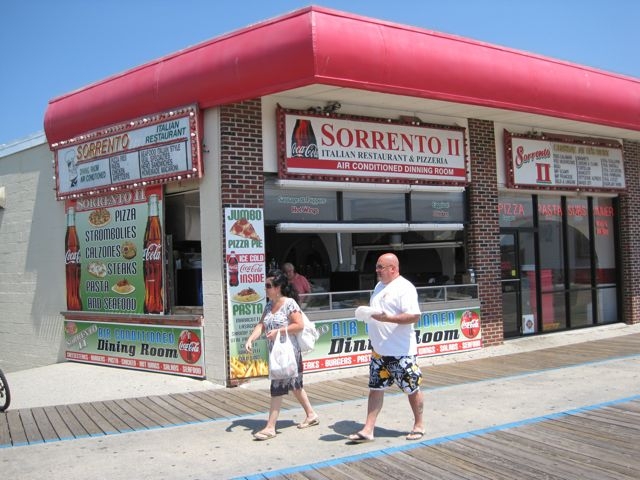 | Year | Rank | Avg | Price |
| --- | --- | --- | --- |
| 2017 | 14 | 2.6 / 5 | $4.25 |
| 2016 | 12 | 2.3 / 5 | $3.00 |
| 2015 | 16 | 1.6 / 5 | $2.50 |
| 2014 | 9 | 2.7 / 5 | $2.50 |
| 2013 | 11 | 2.7 / 5 | $2.50 |
| 2012 | 6 | 3.4 / 5 | $2.50 |
| 2011 | 7 | 3.0 / 5 | $2.95 |
| 2010 | 7 | 2.9 / 5 | $2.75 |
| 2009 | 6 | 3.3 / 5 | $2.50 |
| 2006 | 1 | 4.3 / 5 | $1.85 |

2006
Pizza Tour Winner

2005
Pizza Tour Winner
User Reviews of Sorrento
Review by Dana
June 21, 2016
Best buffalo chicken pizza on the boardwalk! And great pizza all around! Friendly efficient staff. Hardly ever crowded and fast service when it is. Highly recommended! My husband make it a point to come here every time we are at the shore
Review by Barb
October 7, 2013
Love the pizza here. As good as Sam's but not as crowded. Very friendly staff. See ya next year.
Review by Gerald Bisking
June 12, 2012
Pizza was really good. I can't say the same for the pasta.I ordered spaghetti and meatballs,they gave me linguine and 2 meatballs cut in half! I asked for spaghetti.not linguine! The pasta was just warm,and the sauce was thin,it didn't even stick to,or cover the pasta.The big sign on the wall said spaghetti and meatballs,not linguine.I was very disappointed! It was not what I ordered,or wanted, It was poorly prepared and had almost no taste.I won't make the mistake of ever ordering pasta there again! I will find another place on the Wildwood Boardwalk ,to order pasta,next time!
Review by MWC.
June 2, 2011
Great pizza, good times.
Review by Mark C.
June 2, 2011
Sorrento's has been the center of my Wildwood experience since I returned to the boardwalk as a college Freshman (now an old man of 36). Great pizza, friendly staff, great prices. And air conditioning! (And they don't charge you for a glass of water.) Highly recommended
What Do You Think?
What Do You Think?